Curriculum Vitae
PERSONAL DETAILS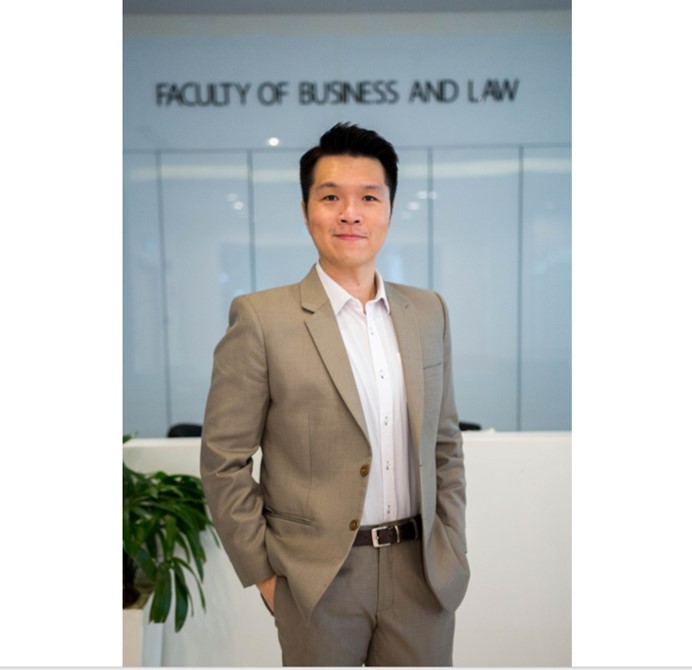 Associate Professor Dr Goh See Kwong
Head of Department - School of Management & Marketing

School of Management & Marketing
Faculty of Business & Law
ADMINISTRATIVE DUTIES
(Role),(Level),(Duration)
Head of Department - Marketing & Management, Faculty of Business & Law, 01/05/2017 to present
Deputy Dean - Postgraduate, Taylor's Business School, 01/05/2015 to 30/04/2017
Programme Director (Undergraduate), Taylor's Business School, 01/01/2013 to 30/04/2015
Stream Coordinator (Management & International Business), Taylor's Business School, 01/01/2012 to 01/01/2013
ACADEMIC QUALIFICATION
(Qualification),(Institution)
Doctor of Business Administration, THE UNIVERSITY OF NEWCASTLE, Australia
Master of Commerce in Marketing, THE UNIVERSITY OF ADELAIDE, Australia
Bachelor of Business in Marketing, UNIVERSITY OF BALLARAT, Australia
PROFESSIONAL MEMBERSHIP
(Organisation),(Role),(Duration),(Level)
Chartered Management Institute (CMI), Affilate Member, 2017 to present (International)
Academy of International Business (AIB), Member, 2010 to 2016 (International)
AREAS OF EXPERTISE
(Area)
Digital Marketing
Knowledge Management
Consumer Behaviour
TEACHING
(Course Title),(Level of Study),(Institution),(Month/Year)
International Marketing, Bachelor Degree, Taylor's University (03/2018)
Marketing Management, Bachelor Degree, Taylor's University (08/2018)
Business Strategy Project, Master Degree, Taylor's University (02/2017)
Services Marketing, Bachelor Degree, Taylor's University (08/2017)
Business Strategy Project, Master Degree, Taylor's University (05/2016)
Services Marketing, Master Degree, Taylor's University (01/2016)
Managing Business in the Global Context, Master Degree, Taylor's University (09/2016)
Executive Research Methods, Master Degree, Taylor's University (05/2015)
Managing Business in the Global Context, Master Degree, Taylor's University (08/2015)
Strategic Management, Bachelor Degree, Taylor's University (03/2015)
Research Methods, Bachelor Degree, Taylor's University (03/2014)
Strategic Management, Bachelor Degree, Taylor's University (03/2014)
Strategic Management, Bachelor Degree, Taylor's University (03/2014)
Organisational Fundamentals, Master Degree, Taylor's University (04/2013)
Strategic Management, Bachelor Degree, Taylor's University (03/2013)
Managing Multinationals, Master Degree, Taylor's University (06/2012)
Strategic Management, Bachelor Degree, Taylor's University (09/2012)
Cross Cultural and Management, Bachelor Degree, Taylor's University (04/2012)
Export Practices and Management, Bachelor Degree, Taylor's University (09/2012)
Entrepreneurship, Diploma, Taylor's University (07/2011)
Export Practices and Management, Bachelor Degree, Taylor's University (08/2011)
PUBLICATIONS
(Title of publication in APA style)
Book Chapter
Emami M., Rezaei S., Sangani B., Goh SK. (2019) Ethical Considerations in Quantitative Tourism and Hospitality Researches. In: Rezaei S. (eds) Quantitative Tourism Research in Asia. Perspectives on Asian Tourism. Springer, Singapore
Turner, J.J., Goh, S.K., Beard, C. and Mulholland, G. (2019). A Business Simulation Game (BSG) and its ability to enhance learning: An evaluation of student perspectives. In Mulholland, G. and Turner, J.J. (Eds.), Enterprise Education in UK Higher Education: Challenges for Theory and Practice, London: Routledge.
Article in Journals
Mostafiz, I., Sambasivan, M., and Goh, S. K. (2019), Impacts of Dynamic Managerial Capability and International Opportunity Identification on Firm Performance. Multinational Business Review. 27(4). (ISI-Indexed)
Imtiaz Mostafiz, Murali Sambasivan, and See Kwong Goh (2019), The Antecedents and the Outcomes of Foreign Market Knowledge accumulation – The Dynamic Managerial Capability Perspective, Journal of Business and Industrial Marketing, ISI, Scopus, Q1, IF – 1.961 – Article in Press.

Valaei, N., Rezaei, S., Sabermajidi, N., and Goh S-K, (Forthcoming) Branding Apps retail channel: An empirical study among coupon redeemers. Journal of Marketing Channels.
Mostafiz, I & Goh, S.K. (2018), International Women Entrepreneurs and International Opportunity Recognition Skills for Start-up Venture, Journal for International Business and Entrepreneurship Development. 11(3), 201-220. (ISI-Indexed)
Yeo V.C.S., Goh S.-K., Rezaei S.(2017). Consumer experiences, attitude and behavioral intention toward online food delivery (OFD) services. Journal of Retailing and Consumer Services, 35, pp.150-162 (ISI-Indexed)
Goh S.-K., Ho V.-T., Jiang N. (2016). The effect of electronic word of mouth on intention to book accommodation via online peer-to-peer platform: Investigation of theory of planned behaviour. Journal of Internet Banking and Commerce, 21, pp.- (SCOPUS-Indexed)
Goh S.K., Nan J., Tee P.L. (2016). The impact of brand trust, self-image congruence and usage satisfaction toward smartphone repurchase intention. International Review of Management and Marketing, 6(3), 436-441 (SCOPUS-Indexed)

Goh S.K, Nan J., Muhamad Faiz Abdul Hak and Tee K.P.L. (2016) Determinants of Smartphone Repeat Purchase Intention among Malaysians: A Moderation Role of Social Influence and a Mediating Effect of Consumer Satisfaction. International Review of Management and Marketing, 6(4), 993-1004. (SCOPUS-Indexed)

Goh S.K., Balaji M.S. (2016). Linking green skepticism to green purchase behavior. Journal of Cleaner Production, 131, pp.629-638 (ISI-Indexed)
Bolisani E., Scarso E., Albert G., Othman R., Kwong G.S. (2016). Comparing communities of practice of private and public organizations. Proceedings of the European Conference on Knowledge Management, ECKM, 2016-January, pp.81-90 (ISI-Indexed)
Goh S.K., Tan I.-S., Yeo C.S.V. (2016). Why do urban young adults share online video advertisement in Malaysia?. International Review of Management and Marketing, 6(2), pp.283-288 (SCOPUS-Indexed)
Goh S.-K., Nee P.-Y. (2015). Pseudo Knowledge Sharing: The Influence of Trust and Guanxi Orientation. Journal of Information and Knowledge Management 14(3), pp.- (ISI-Indexed)
Jain K.K., Sandhu M.S., Goh S.K. (2015). Organizational climate, trust and knowledge sharing: Insights from Malaysia. Journal of Asia Business Studies 9(1), pp.54-77 (ISI-Indexed)
Goh S.K. and Lim K.Y. (2014) Perceived Creativity: The Role of Emotional Intelligence and Knowledge Sharing Behaviour, Journal of Information & Knowledge Management, Vol. 13, No. 4, pp (ISI, Scopus, ERA) (ISI-Indexed)
Goh S.K. and Sandhu, M.S. (2014) The influence of trust on knowledge donating and collecting: An examination of Malaysian universities, International Education Studies, Vol.7 No.2, pp.125-136 (Scopus, ERA) (SCOPUS-Indexed)
Goh S.K. and Low, Z.Y. (2014) The influence of Servant leadership towards organizational commitment: The mediating role of trust in leaders. International Journal of Business and Management, Vol.9 No.1, pp. 17-25; ISSN: 1833-3850 (ERA) (SCOPUS-Indexed)
Goh, S.K. and Sandhu, M.S.(2013) Affiliation, reciprocal relationships and peer pressure in knowledge sharing in Public Universities in Malaysia, Asian Social Science. Vol. 9, No.7, pp290-298 (Scopus, ERA, ABDC) (SCOPUS-Indexed)
Kee, D.H.C. and Goh S.K. (2013) Factors Affecting Consumer Attitude towards Social Network Advertising in Malaysia, Taylor's Business Review, Vol. 3, No. 1, pp.75-90 ISSN:2232-0172 (SCOPUS-Indexed)
Goh, S.K. and Sandhu, M.S.(2013) Knowledge Sharing Among Malaysian Academics: Influence of Affective Commitment and Trust, Electronic Journal of Knowledge Management, Vol.11, No.1, pp.38-48, ISSN: 1479-4411 (ERA, Cabell, EBSCO) (SCOPUS-Indexed)
Goh, S.K. and Tan S.I. (2010) Does power perception influence one's complaint behaviour? International Journal of Management and Entrepreneurship, Vol. 6, No.1 (SCOPUS-Indexed)
Article in Proceeding
Othman R., Albert G., Kwong G.S. (2015). Investigating the determinants of acceptance of virtual communities of practice in the public works department of Malaysia. Proceedings of the International Conference on Intellectual Capital, Knowledge Management and Organisational Learning, ICICKM 2015-January, pp.197-205 (ISI-Indexed)
RESEARCH PROJECT
(Project title),(Role),(Duration),(Level)
Social capital and individual motivations on word-of-mouth communication using social media: A multi-country investigation, Project Leader, 2016 to 2018 (Taylor's University)
Determinants of Smartphone Repeat Purchase Intention Among Malaysians: Moderation Roles of Self-congruence and Social Influence and a Mediating Effect of Consumer Satisfaction, Project Leader, 2015 to 2016 (Taylor's University)
SUPERVISION
(Title of Thesis),(Name of Candidates),(Academic Level),(Role)
The Impact of User's Psychological Factors on the Online Purchase Intention in Island Tourism, NAGHMEH SABERMAJIDI (Main Supervisor)
SENSORY PERCEPTION AND PSYCHOLOGICAL ASPECTS OF EATING BEHAVIOUR: FACTORS INFLUENCING FAT HEDONICS, TAN YUN FEI (Co-supervisor (Internal))
DYNAMIC MANAGERIAL CAPABILITY AND INTERNATIONAL OPPORTUNITY IDENTIFICATION - AN EMPIRICAL INVESTIGATION OF INTERNATIONAL PERFORMANCE OF BORN GLOBAL FIRM IN LEAST DEVELOPING COUNTRY, MD IMTIAZ MOSTAFIZ (Main Supervisor)
DODAMPEH GEETA ALBERT A/P M.H (Main Supervisor)
YONG WEE SHIEN (Main Supervisor)
VINCENT YEO CHEOW SERN (Co-supervisor (Internal))
THIVASHINI A/P B JAYA KUMAR (Main Supervisor)
PRESENTATION
(Title),(Event),(Date Presented),(Organiser),(Level)
The role of Dynamic Managerial Capability in International Opportunity Identification: An Empirical Investigation in Emerging Economy. , Academy of International Business: U.S. West Chapter 2018 Annual Conference, 17/10/2018 to 19/10/2018, Daniels College of Business, University of Denver &nbsp(International)
Knowledge management librarians: Evolving competencies in knowledge capture and dissemination in an academic environment, World Library and Information Congress, 24/08/2018 to 30/08/2018, International Federation of Library Associations and Institutions (IFLA)&nbsp(International)
International Women Entrepreneurs and International Opportunity Recognition Skills for Start-up Venture, Academy of International Business (AIB) Southeast Asia Regional Conference 2017, 07/12/2017 to 09/12/2017, Academy of International Business (AIB)&nbsp(International)
Business is More than a Game: An Evaluation of Student Perspectives of a Business Simulation Game and its Ability to Enhance Learning, Taylor's 10th Teaching and Learning Conference 2017, 30/10/2017 to 31/10/2017, Taylor's University&nbsp(International)
Investigating the determinants of acceptance of virtual communities of practice in the public works department of Malaysia, 12th International Conference on Intellectual Capital Knowledge Management and Organisational Learning (ICICKM), 05/11/2015&nbsp(International)
Organisational Climate, Knowledge Sharing Behaviour and Creativity: A study from Malaysia, Proceedings of the 11th International Conference on Knowledge Management, 04/11/2015 to 06/11/2015, International Conference on Knowledge Management&nbsp(International)
Cross Cultural Challenges and Synergies Working In an International Collaboration Project, Proceedings of the 7th Taylor s Teaching and Learning Conference, Malaysia: Taylor s University Lakeside Campus, 14/11/2014 to 17/11/2014, Taylor's University&nbsp(International)
Factors Affecting Consumer Attitude towards Social Network Advertising in Malaysia,, e-Proceedings from TBS-CLSG International Conference Series 2012, 24/09/2012 to 25/09/2012, TBS-CLSG&nbsp(International)
The influence of Affective Commitment and Trust on Knowledge Sharing In Malaysian Universities. A Comparison between Public and Private Universities., European Conference of Knowledge Management, 06/09/2012 to 07/09/2012, Universidad Politecnica de Cartagena, Spain and ACI - (http://academic-conferences.org/eckm/eckm2012/eckm12-home.htm)&nbsp(International)
Comparing Communities of Practice of Private and Public Organizations, European Conference on Knowledge Management, 01/09/2016 to 02/09/2016, European Conference on Knowledge Management&nbsp(International)
Investigating the Determinants of Acceptance of Virtual Communities of Practice in the Public Works Department of Malaysia, Proceedings of the 12th International Conference on Intellectual Capital, Knowledge Management & Organisational Learning, 05/11/2015 to 06/11/2015, International Conference on Intellectual Capital, Knowledge Management & Organisational Learning&nbsp(International)
AWARDS AND STEWARDSHIP
(Name of Award/Stewardship),(Award Category),(Awarding Institution),(Year Awarded),(Type of Award)
Awarded Best Paper, Conference, University of Denver, Denver, 2018 (Best Paper Award)
Vice-Chancellor s Award Taylor s Most Cited Academic (2018), Education, Taylor's University, 2018 (university)
Awarded Best Paper, Conference, Taylor's University, 2017 (Best Paper Award)
COURSE ATTENDED
(Course Title),(Course Mode),(Date/Duration),(Level)
ASEAN Young Leaders Programme, Research, 19/11/2018 to 30/11/2018 (International)
Teach Less, Learn More' Workshop, Research, 17/05/2017 to 17/05/2017
TBS Research Seminar: High Earning Risk in Islamic Banking, Research, 15/03/2017 to 15/03/2017
2U2I Briefing (by invitation only), Research, 07/03/2017 to 07/03/2017
Integrating Teaching with Research (TBS only), Research, 28/02/2017 to 28/02/2017
Briefing on iCGPA to Deans & HODs in Taylor's University, Research, 10/01/2017 to 10/01/2017
Taylor s Oxford Entrepreneurial Leadership Programme, Non research, 03/08/2015 to 09/08/2015 (International)
Fundamentals of Project Planning and Management, Research, 08/06/2015 to 07/11/2015 (University)
Critical Perspective on Management, Non research, 27/03/2014 to 26/08/2014 (University)
Grow to Greatness: Smart Growth for Private Business, Part 1, Research, 25/03/2014 to 27/08/2014 (University)
Content Strategy for Professionals 1: Engaging Audiences for Your Organization, Research, 05/03/2014 to 04/08/2014 (University)
Surviving Disruptive Technologies, Non research, 14/05/2013 to 13/10/2013 (University)
Executive Certificate of Teaching and Learning in Higher Education, Research, 01/06/2010 to 30/06/2010 (University)
Executive Certificate of Teaching and Learning in Higher Education, Non research, 04/01/2010 to 24/11/2010 (University)
Certificate in Market Research, Research, 02/07/2007 to 13/07/2007 (National)